one of a kind
pieces designed & hand-fabricated by me with love, intention & loads of gratitude
Shop ONE OF A KIND Here
R&R Line
is a collection of simple, ever-changing pieces that are either hand fabricated or cast & made to order
Shop R&R Collection Here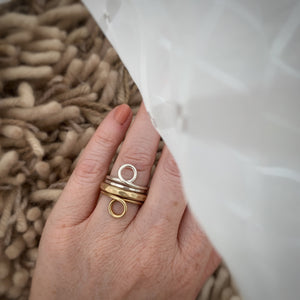 R&R Stacker Rings
everyday essentials
OMG Stacey!!!!!!!

My drop-dead gorgeous ring arrived!!! I am over the moon thrilled with her. She is absolutely stunning!!!! Thank you from the bottom of my happy heart!

— 

Lisa S.
My ring is absolutely perfect,


the pictures and video does not due it justice. I love love love it



— 

Ciara B.
Yee haw!


The eagle has landed and she's a happy girl! Greatly appreciate it...Thanks so much for your time and work. The jewelry making fascinates me. So delicate.



— 

Jon B.
My set is now complete.


I love, love, love it. And I love that I can wear all three or just certain ones. Thanks for sharing your talents with the world!




— 

Laura S.